Joe Ecoppi outfielder who hit .304 with the 1950 team is living in San Antonio.  He has only favorable memories about his baseball career and his time in the Kitty League.  He roomed with Carl Roe and John Kirk, two pitchers, "on an beautiful neighborhood street, elderly couple, huge victorian home about two blocks from the Wonder Bread Bakery."  Manager John Mueller and his wife live ablout two blocks away.  He really liked the ball park and the large outfield "with fences a mile from home plate.  Those were great times."

Curt Englebright
did indeed marry the Union City girl with which he is pictured on the photos page.  However the marriage did not last and he married his present wife Alice Clark from his hometown in 1956.  He has three daughters and five grandchildren,.  When he retired from professional baseball in 1952 he worked for a time at the Trimble Manufacturing Company, Trimble TN, a garment factory operated by Phil and Nettie Roseman of Union City.  In the fall of 1953 he returned to his hometown where he began a 45 year career as an educator. He was a teacher, coach and administrator in the Wayne county Illinois public schools until 1963 when he returned to Southern Illinois Univ for doctorial study.  He earned a Ph. D. in 1965.  He spent the next 35 years as a college professor, department head, college dean, and state coordinator at Bowling Green State University (65-67), Western Kentucky University (67-90), Southeastern Oklahoma State U (90-94), and the Oklahoma State Regents for Higher Education (92-98).  Today he and his wife live in Bowling Green, KY.  He plays golf and they play bridge, travel and enjoy their children and grandchildren.   Curt's memories are found by clicking on the following links: 
Showdown at Turner Field
, the second game of the July 4 double-header with Fulton in 1950; 
Pitching Marathon,
as two pitchers go 14 innings in a batle you won't see today; and Curt's comments on the
Demise of Class D Baseball.
Whatever happened to....?  This is a common question that comes from those who were around during the Kitty League days and remember specific players or teams.  Available information will be published here.  If you know a connection with a former Greyhound, recent or distant past  or have a question about a player, email me and I'll do my best. (give this page a few seconds to load.)
In September, 2001 Murriel McNeill died in Halls, TN at the age of 91.  Murriel was one of two Greyhounds to play both before and after WWII.  Walter Ward is the other.  Murriel was also a great amateur golfer and played regularily with friends at Poplar Meadows CC until recent years.  He was eight times club champion in the 60's and 70's.  Thanks to Dick Strub for noticing first.

Frank Radler was manager of the Greyhounds in 1952, his last year in pro ball.  Frank began his playing career in 1937 in the St. Louis Browns organization.  In his only year in the high-minors, 1945, he had a 6-23, 4.91 record for the Cardinal's Rochester club in the International League.  He started managing in 1948 and piloted his hometown Stroudsburg (PA) Poconos until 1950.  In those three years he pitched and won 53 games, while losing only 13.  He led the league in ERA all three years (2.18, 1.59, and 1.81) and in wins in 1948 (20) and in 1950 (21).  In 1951 he managed the Deland Red Hats to the Florida State League championship and had a 12-5, 1.94 record.

Radler's 1949 team in Stroudsburg is rated among the 100 Best Minor League teams in history.  They won 101 games while losing only 36 for a PCT. of .737.  One of the players who helped with this fine record was outfielder John Rothenhausler who hit .377 and ad 128 RBIs.  The same Rothenhausler who played and hit for Radler in Union City in 1952 when the Greyhounds went to the finals of the Kitty League playoffs before losing to league champion Madisonville Miners.

Info from Bill Weiss and Marshall Wright, Baseball Historians, on Minor League Baseballs Top 100 Teams site.

!939 outfielder Harry Hildebrand spent the latter part of 1937 and all of 1938 in Fostoria, Ohio in the Ohio State League.  His acquisition in 1937 helped Fostoria to its best play of a poor season.  He was noted for two steals of home in a 10 day period in Agust.  In 1938, as a regular, speed and defense were among his strengths, and after the season he was elevated to the Cardinals Decatur club in the Three I League, where he played briefly before going to the Greyhounds.  Don Bakkeund, a 1941 Greyhound, was another former Fostoria player.  A pitching ace in 1939, he was elevated to Portsmouth in the Middle Atlantic League for 1940.  He was later sent to Lansing in the Michigan State League.

Garland "Luke" Sewell who started 1937 with the Greyhounds went to Fremont of the Ohio State League in 1938 and was one of the keys to their pennant that year.  He remained with the Fremont team in 1939 and and remained with that team the next year.  After an early holdout in 1940 he joined Fremont in une.  He was embroiled in a contronversy later when manager Ray Caldwell was fired and Sewell named as his replacement.  The team threatened a strike that was narrowly averted.  He was drafted by the St. Louis Browns in 1940 and played in Youngstown in 1941.

Lloyd "Lefty" Fisher went from the Greyhounds where he played in 1939 and 40, winning 19 games and losing 25, to Fremont in 1941, where his hitting and pitching were keys to a pennant winning season.  Late in the season he was sold to the Dodger organization. 

One of the most poplar and best remembered players in  Greyhound history is Eulas "Bud" Hutson, although few remember his first name was Eulas.  Bud played outfield for Union City in 1948.  The team won the Kitty League playoffs at the season's end.  Bud supposedly hit a ball over the power lines connecting the outfield lights in left field.  Since the wall was 341 down the line and 437 in left-center with the wires about 60 feet high this was quite a poke.  I do remember him hitting the scoreboard on the fly and it was in the 437 corner of the park.  It is a fact that in 1948 Bud Hutson hit 19 homeruns and had 129 RBIs while hitting for a .346 average.  It was good enough to get him invited to a special winter camp with the Cleveland Indians that also included Larry Doby.  Bud never made it to the "bigs".  He did play for ten more years after leaving Union City though.  In 1949 he was in Pittsfield (NY) in the Canadian-American League.  Then in 1950 and 51 he played for Wilks-Barre (PA) in the Eastern League.  In 1952 he was with Indianapolis (American Association), Seattle (Pacific Coast League), and Dallas (Texas League).  Tulsa in the Texas League was his home in 1953.  Then he went to St. Paul in the American Association for the seasons of 54-57.  The later part of 1957 saw him shipped to Mobile in the Southern League and he played there again in 1958 his last year of pro-ball.  The American Association was AAA class as was the Pacific Coast League.  These leagues played a better brand of baseball and had better players than half the major league teams of today.  In his career Bud Hutson hit 166 homeruns and had 859 RBIs while hitting around .300 nearly every year.

Last of 2001 Dick Strub, one-time sportswriter for the Union City Messenger when he was in high school, sent me a group of addresses that he thought might be old Greyhounds or Dodgers.  He suggested I write these people and see if in fact they were former players and if so did they have memories of Union City and the Kitty League  Frankly I thought it a hellova shot in the dark...after all we're talking 50 years.  I mailed about 30 letters.  It started the ball rolling! So far I have heard from lots of former Greyhounds/Dodgers!!  Also several family members of the players.Their comments/memories/conversations  are reported here.  Oh yeah, thanks Dick!

The first guy heard from was Jerry Majercik, the Mighty Mite All-Star second baseman from the 1947 team.  Actually my wife heard from him first because he called from Miami and I wasn't home.  We finally connected a couple of days later and had a great time remembering.  Jerry was in business in the Chicago area for many years and he and his wife always took vacations to the south Florida area.  A few years ago he sold the business and moved to Miami permanently.  He has fond memories of UnionCity.  He remembered the Moss brothers Cecil (club Vice President) and H. P. (Business Manager) and H. P.'s son Bruce, who is about the same age as Jerry.  He especially asked about Leonard, the batboy/groundskeeper.  There was an "appreciation night" held for Jerry that year and he recalled along about the fifth inning Manager Steve Bysco telling Jerry to "sit this one out.  I'm pinch-hitting for you."  That was pretty unusual since Jerry hit near the .400 mark all year.  When he turned there was Leonard coming out of the dugout, swinging a bat.  The fans rolled with laughter and perhaps Leonard had the last laugh when he hit a grounder to the infield.  That one scene typlifies the times and spirit of the game then.  Jerry remembers that he boarded with the Burdine family.  Oddly as we talked I can see the Burdine house from my kitchen window.  He recalled the good breakfasts available at Dunnagan's Dinnette on the corner of Washington and First and the occasional steak at The Grill (when the owner got tired of seeing the players order a bowl of chicken soup and then fill up on crackers).  Salary was $125 a month back then.  And Jerry thinks the best college teams of today couldn't stay on the field with a mediocre class D team of those years.  Jerry went to Spartanburg in 1948 and then to Burlington before being drafted and spending two years in the army during Korea.  He remained under contract to Cleveland and was always a favorite of General Manager and Hall of Famer Hank Greenberg.  A contract back then was for life and a player didn't have to play where the parent team told them to go, but they couldn't play anywhere else without being traded or getting a release.  Cleveland seemed to lose interest after Jerry returned from military service, but they did not grant a release until 1955 when to many good years had gone by.  It was great talking to one of my boyhood heroes and to find out he was just as human today and he was 55 years ago.

I got an e-mail from Barbara Leonhard, the daughter of Bob Leonhard hard-hitting outfieldere of the 1949 Greyhound team.  Bob was in rehab after a long seige of recovereing from lumbar back surgery.  He somehow got a staph infection in July and has had three back surgeries since Christmas 2001 to repair and replace bone affected by the staph.  He's been through a lot but should be home by now and was excited to hear their was someone who remembered.  He retired as a teacher and coach seven years ago bt has continued to keep busy helping with the sports programs at the school.  Bob is living in Chagrin Falls, OH and I look forward to hearing from him as his health improves.

A phone call from Arcadia, CA put me in touch with Ted Kazek.  Ted played on the 1955 Dodger team..the last one.  He said he wasn't here long and doesn't remember much about the team or the town.  But the more we talked the more he remembered.  He was here long enough to win 7 games while losing only 4...and that's the best won-loss percentage on the team.  He also had a respectable 3.54 ERA.  he thought of the batboy, Buster Thomas and he remembered the games of pepper and catch with the youngsters that hung around the park.  He remembered that manager Joe Hauser  was quite a character and had been a bigger one in the past.  Joe hit over 60 homeruns in a season twice.  He told Ted he could still hit major league pitching in 1955.  Joe was 55 in 55.  Ted remembered The Grill as a great place to eat, and the large dog that barked at him every night as he made his way back from the ball park.  Salary that year was $300 a month for him.  He was 23 years old that year.  The Dodgers would not give him a release and consequently when he was sent to class D Union City from Bakersfield in the California League he thought of it as punishment.  He became friends with "good old boy" Franklin "Spud" Hale and remembers Spud taking him frog hunting on the family farm.  On the last night of the last game of the last seaon of the Kitty League, six Dodgers were involved in an accident on their way to Mayfield when a Studebaker ran a stop sign in Water Valley, KY.  The occupants of the Studebaker were oddly members of the Water Valley baseball team on their way to a game.  While there were no lasting injuries, only one of the six Dodgers were able to play in the final game.  Since both teams were down to 14 players this meant Union City had only 9 players available.  Ted received a cut to the arm that required 36 stitches plus various and sundry bruises that made it hard for his family to recognize him when he got home a few days later.  His friend Spud Hale was driving the car. Spud's memories of this event are on down the page

These reports will pick up toward the bottom of the page.

More recent contacts

In the letters I mailed to individuals having names of former Greyhounds/Dodgers I enclosed a postcard for responding.  I expect to hear more from some of those who mailed back the cards.  I found Lowell Mendenhall in Olive Branch, IL.  He played in Union City at the end of 1953 and the championship team of 1954.

Bob Samaras is in St.Clair Shores, MI.  Bob remembers "we had a great year! (1948)  Won the playoffs, beat the Three-Eye Class B champions 9-8 in an exhibition game in the post-season.  Tony Rensa was the manager and we were a Cleveland Indian farm club."  He says he will contact me.  Great!  He just did 1/27/02.  Dr. Bob Samaras is retired from a successful career coaching basketball at the college  level, a published author, a member of the Windsor College Hall of Fame, and a five day a week golfer when weather permits.  He has some great memories of the '48 team that was red hot  in the playoffs.  Bob was 20 for 32 himself and made some spectatular catches in those games.

   Bob Samaras from the Windsor College Hall of Fame site

Got an e-mail from the daughter of Clarence "Dutch" Neuman.  "You recently contacted him about his playing for the Union City Greyhounds.  He phoned me and asked that I visit your web site.  I was honored and just a bit choked up to see the pictures of my father.  I printed out the complete web site to show him.  My husband and I are visiting my farther tomorrow (Jan 19) to celebrate his 78th birthday and we plan to take our laptop to him so he can see the site.  Thank you for providing a great birthday gift for the man who has everything.  We grew up hearing of his playing days and could always hear the pride in his voice.  i hope that we can provide you with more nformation for your site.  your desire to honor these players is a gift to all of us Thank you for your efforts.  i will be in touch."  I got a card from Dutch in the past few days telling me he will be in touch about his memories of Union City and the baseball team.  It was signed "The Fireman" a reference to his nickname received because of the number of times he was called on for  relief work to "put out the fire".  He played in 1946, 47, and 48.

Hardy Cofer is in Richmond, VA.  He played outfield on the 1953 team and hit .314.

Thanks to John Rothenhausler we now have a picture of the 1952 Greyhounds.  I think I have identified the players.  Look on the pictures page and let me know if I'm wrong.  Jack also sent some news clippings of the 1952 season that his wife has been saving all thes years.  He said he enjoyed playing ball in Union City.  The Kitty League was a great league.  There's nothing like that going on today.  Jack hit.317 with 19 homers and 138 RBIs in the 1952 season.  He reemembers "Lefty" Gomez being in the dugout one night.  Lefty said to him "you hit the ball quite well.  But with that name-you're DONE!"  Jack Roth would have been easier on the media guys!

Jim Jadwin is in Chillicothe, OH and a transportation consultant in the trucking industry.  In his own words:'I was with the Union City ball club for the entire year of 1949.  It was at that time a Cleveland Indian farm club and we were called the Greyhounds.  We had spring training at Marianna, FL.  When we came north the manager was Tony Rensa.  He was fired after about 2 1/2 months and Rudy York came in and finished the season as a playing manager.  Ironically I had seen him play just 4 years earlier in the 1945 World Series.  At the time he was first baseman for the Detroit Tigers.

Union City gave me some special memories that have lasted well over 50 years...."

"I was the catcher on the ball club.  A good friend of mine Dick Dutton, was the shortstop.  He is from Marietta, OH.  The outfielders were George Martak from St. Louis, Lou Perigo from somewhere in California and Johnny Gabriel from Chicago.  The third baseman was Billy Joe Forest from Fulton.  The second baseman was Corky Bellers from St. Louis.  (He lived in the Hill district where Yogi Berra and Joe Garogiola came from.)  York played first.

I don't remember the pitchers, but some of them were Joe Linn, Lee and John Ellison.  We traveled by auto when we went on the road. and were usually out for from 5-7 days at a time.  Obviously none of us made much money.  A class D league in 1949 was a far cry from what professional athletes get today.  I don't think anyone from our ball club made it to the big leagues.  I stayed in baseball through 1955.  (Two years in the Army during the Korean War.)  I spent part of 1954 and 55 in AAA with Indianapolis of the American Association.  Hopefully this will give you some information you did not have.I am curious though as to why you are interested in things that happened over 50 years ago?"

Wish I could explain it.  I know I didn't expect this much when it started!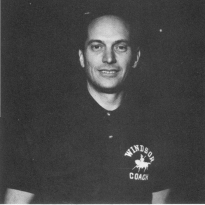 I recently had separate e-mails from two sons of former Greyhounds.  Wally Lessig, son of Sherwood "Lefty" Lessig a pitcher on the 1952 team is being inducted into the Pen Argyl, PA Hall of Fame this year and I supplied some pictures that are sure to surprise Lefty at the induction cermony.  Also Bob Oefinger, son of hard-hitting first baseman Bob Oefinger also on the 1952 team informs me that his dad died in 1996.

A recent email "in his own words":  This is
Robert F.  "Spud" Hale.
  I talked to
Kazek
a year or two ago. He and his wife love California.  The WRONG part is that I s not driving the car  that night.  For whatever reason I went another way. 
Bennie Bland,
who I had roomed with in an apartment across from the old coffee shop on the corner, was driving the car  It was a beauty.  A red and white convertible with black seats, red dash black top, etc.  I bought it for $2300 out of my first year lary bonus of $4000. 
Fred DeFalco
also roomed with myand Bennie.  We used to go out and scale the tall wire fence at the high schoond go swimming in the wee hours of the night after games.  I wnt to the California League class C the year.  The Dodger farm team was the Reno Dodgers.  We were the only team outside CA.  We stayed in an old motel type building with a main house outside of Reno that was said to have belonged to Gene Autry back when they had Dude Ranches.  There was a beautiful 10 acre lawn with a shallow, bright stream running through it.  Ted KazekI and I were walking back from Reno the night Reno sent him to a D league in the northwest.  I was bitching about how he had been treated but he took an entirely different attitude of what baseball had done for him, the places he had seen, and so forth.    He (and everyone else) was far more mature than I was emotionally. 
Gary Coultas
wrote me one time when I was just getting over an operation and they were having a get together, but I could not come.  I remember him well. 
Art Hartung
played first base, and several people played  second 
Al Costos
played short.  He was 28-30 and had a grim view of life.  The left fielder was ??? and broke his leg in spring training the next year.  I doubt he ever played another game. 
Spring Training at Vero Beach
by Spud Hale. 
For more Spud Hale memories click here.
Email from Mike Martling, son of Dewey Martling the catcher on the 1952 Greyhounds team.  "After retiring from baseball after the 1952 season, my dad returned home to Staten Island, New York with his wife Nettie and daughter Dawn and joined the New York City Sanitation Department.  He worked there for twenty years and retired in 1974.  I was born in 1959 and grew up on Staten Island.  Dad and Mom had fond memories of Union City and as a kid they took me there once.  We moved to Heber Springs Arkansas after Dad retired.  In 1979 my folks were divorced and my dad eventually remarried.  He continued to live in Heber Springs until his death from cancer on September 28, 1997.  He always loved baseball and followed it regiously.  Thanks for your great website."  A Greyhound picture of Dewey is on the photo page.

I had a phone call recently from Bruce Moss.  Bruce is the son of H. P. Moss and nephew of Cecil Moss, both who were officers and tireless workers dedicated to keeping baseball alive in Union City.  Bruce was a batboy for the Greyhounds in the early '40's I believe.  We discussed several players that he remembered including Jimmy Cookson who played outfield here for a short time in 1937 and all of 1940.  Bruce remembered Cookson coming by the school to say goodbye at the end of the season.  He also remembered Clyde Kluttz being with Cookson.  Kluttz went on to play 12 years of major league ball with several clubs ending with the Washington Senators in 1952.  He is best know as the Yankee scout that got Catfish Hunter to sign with the Yankees for $3.5M as a free agent after Charley Finley had his contract voided. He went on to become Director of Player Personnel for Baltimore. I was unable to find where Clyde ever played for the Greyhounds or even in the Kitty League, but as often happens when researching I found something almost as good.  In 1939 and 1940 Fulton had an outfielder named Frank Filchock.  He hit .335 in 1940 before leaving the league in August.  He left to go to the Washington Redskins training camp since he had been traded by the Pittsburg Steelers a couple of years earlier.  Filchock was an All-American for Indiana U. and played professional football from 1936-1952.  He was the Redskins backup quarterback behind Sammy Baugh and later the number one guy for the Giants.  In the playoffs in 1940 the Bears beat the Redskins 73-0 in the championship game, Filchock threw 4 interceptions in relief for Baugh.  The record stood until tied by Bret Favre of Greenbay, both are now thankful to Rich Gannon.  Frank was the first head coach of the Denver Broncos in 1960-61.  Is the Kitty League far-reaching or what!

An email from Karl Riley pointed out a mistake in the 1939 players listing.  I incorrectly had his father, John "Jack" Riley listed as a pitcher when he should have been a second baseman.  Jack is 86 years old but in good health.  Thanks for letting me know and I'm happy to make the change.

Bob Oefinger Jr. sent some clippings and pictures of Turner Field.  Bob's dad was first baseman for the 1952 Greyhounds.  These are the only pictures I have been able to find showing the total park the way they do.  Thanks much, Bob.

Bill Saar
was a catcher for the Dodgers in 1954.  He later became a New York City policeman and stayed on the force for over 15 years.  He was always involved in baseball and basketball and took a full time job as a referee in the NBA when he ended his career with the NYPD.  Bill retired from the NBA in 1993.  He still lives at home with his wife Louise, in East Rockaway, NY.  Report and picture from
Paul Hickey.
www.brooklyndreamof55.com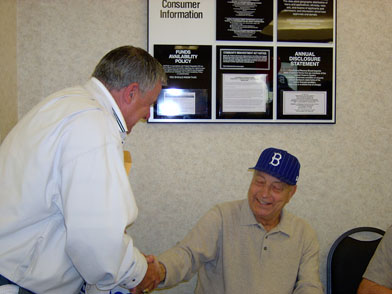 At the 50th Anniversary of the Brooklyn Dodgers 1955 World Series victory, Bill Saar (left), meets up with old team mate Johnny Podres.  Johnny was the Series MVP in 1955.