Here are some old photos of the Union City Greyhounds/Dodgers.

The 1937 Union City Greyhounds.  Back from left to right: Dave Bartosch, Eddie Murphy, George Sauer, Ray Zimmerman, Paul Price, Johnny Antonelli, mgr.  Front, John Pavlige,Woody Lalumondiere, Joe Barbieri, George Valine, Atan Katkaveck, Jim Ronsieke, Cy Redifer.  Batboy is Billy Wagster and the mascot is Fusion.

This 1946 Greyhound team includedMilt Sidwell, Bill Sweatt, Burnie Lewis, A. B. MacMorara, Bill Wilson, Jimmy Alsup, Pete Burnette, Bill House, Bob Sepanek, Dutch Neuman, Marty Zuba, Danny Vanderbar, Jess Webb, and Howard Bentz.  This was taken at the end of the season and Webb, a pitching legend in the league, had been named manager.  Autographs are on the right.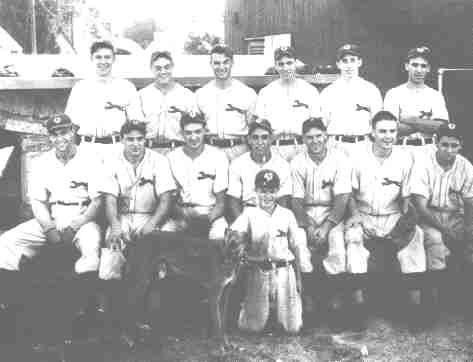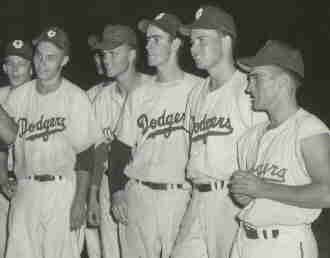 Some of the Union City Dodgers from the great team in 1954.Al Shinn, second left, hit over .400 before ending the season with an injury and dropping to .392.  Others shown are Bob Kozcwara,Tom Sheridan, Bob Vertich and Gene "Shorty" Dearman.

Julius "Jay" Stasko, played in Union City as both a Greyhound and a Dodger.  He made the All-Star every year he played professional baseball except 1954, when the Dodgers hosted Union City's only mid-season classic.  He also lived and worked in the town for several years during the offseason and after the league's demise.  Shown here at the crowning of a Miss Greyhound contest.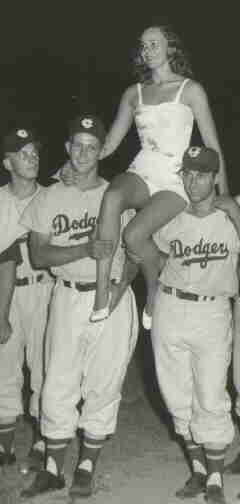 Lowell Mendenhall and Sal DeMatteis shoulder Miss Kitty League of 1954, Nancy Adams of Mayfield.  Ace pitcher Jim Major looks on.


Outfielder Jose "Joe" Fernandez, another member of the 1954 team.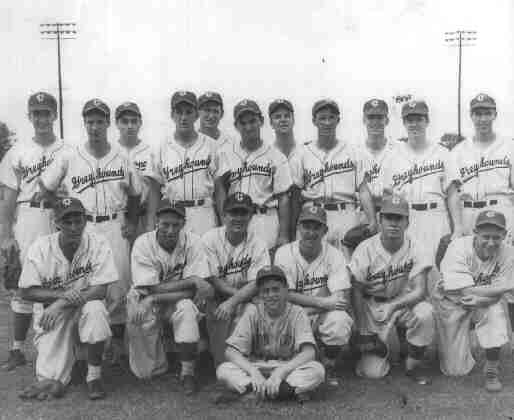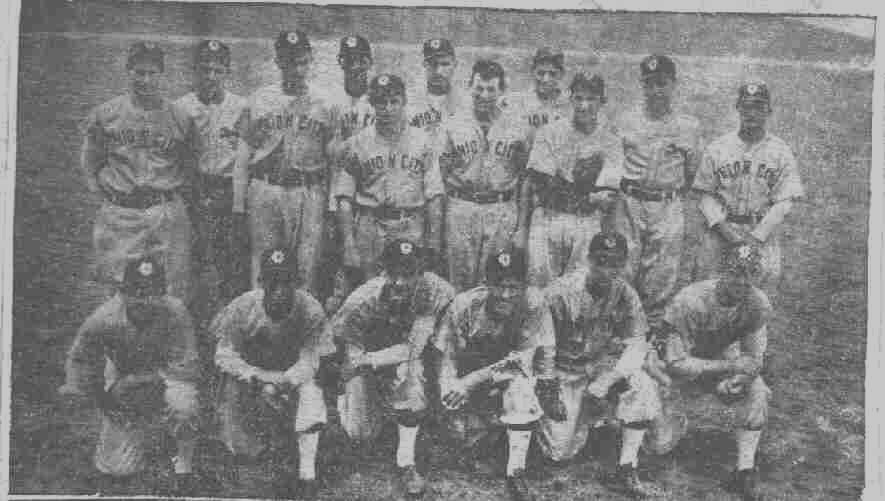 This is a poor copy of a poor copy of the 1938 Greyhounds.  Walter Ward is the only positive ID,  He is 3rd from right in kneeling row.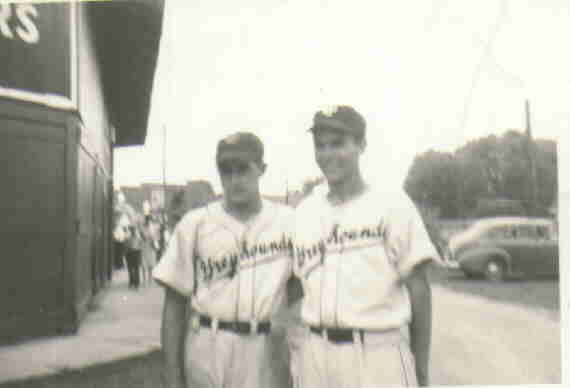 Ralph "Chicken" Brawner and Johnny Johns two members of the 1947 Greyhounds.  Brawner, from McKenzie, TN played for UC in 1946-47 and then several years for Fulton.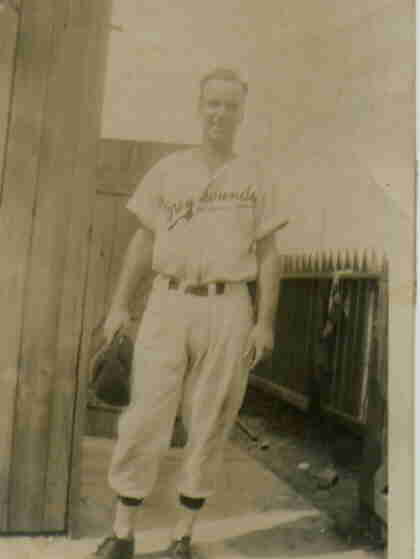 Pistol Pete" Burnett a hard hitting long baller, from Nashville.  He played outfield for the Greyhounds in 1946 and again in 47.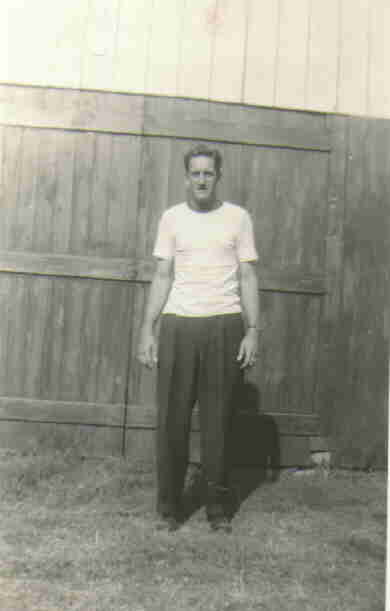 Clarence "Dutch" Neuman pitcher and outfielder for the Hounds 46-48.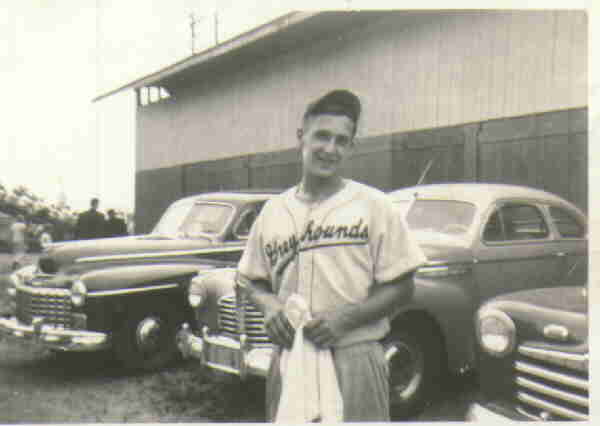 Jerry Majerick, second baseman for the Hounds in 1947.  He was known as the Mighty Mite for his small size, but powerful hitting.  He is standing behind the grandstand at Turner Field on the third base side.  The three cars in the background were used for transportation to away games.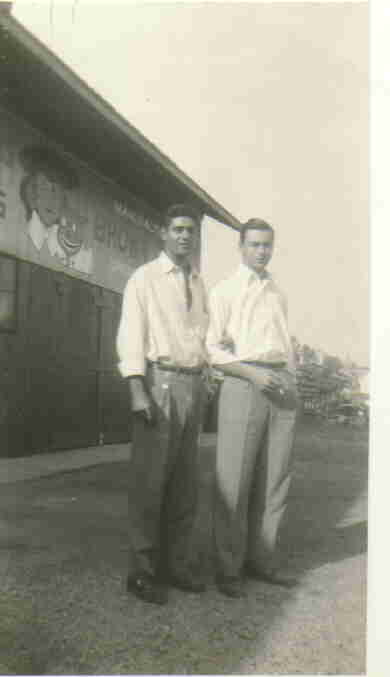 Johnny Johns and Burnie Lewis standing behind the Turner/Field grzndstand on the first base side.  The advertisement on the grandstand is Brown Shoe Company's Buster Brown and his dog Tighe.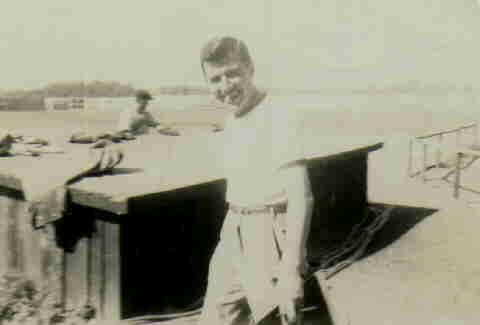 Lou Wrather was manager of radio station WENK.  A former high school teacher at UCHS, Lou broadcast every Greyhound game, at home and on the road.  Here he is in Clarksville.  Note the wooden dugout in the background.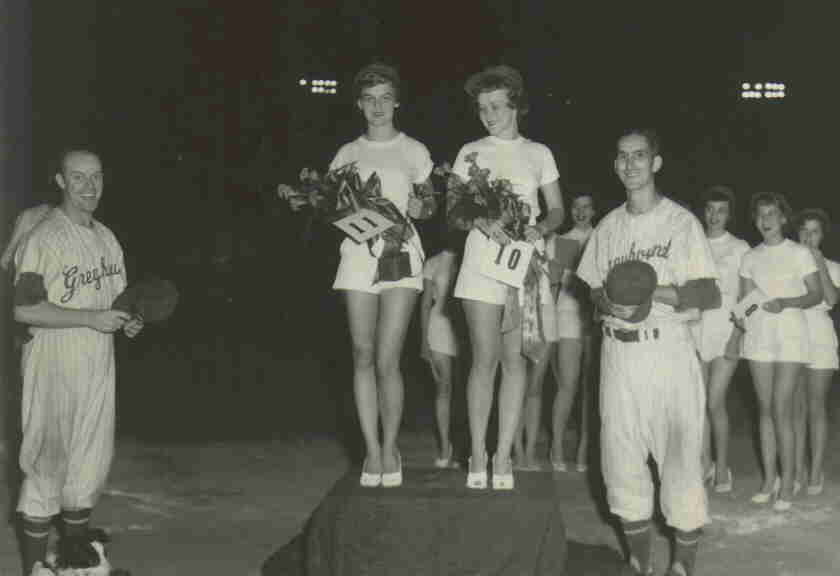 A Miss Union City Greyhound contest at homeplate Turner Field.  Note a few bulbs are missing from the outfield lights.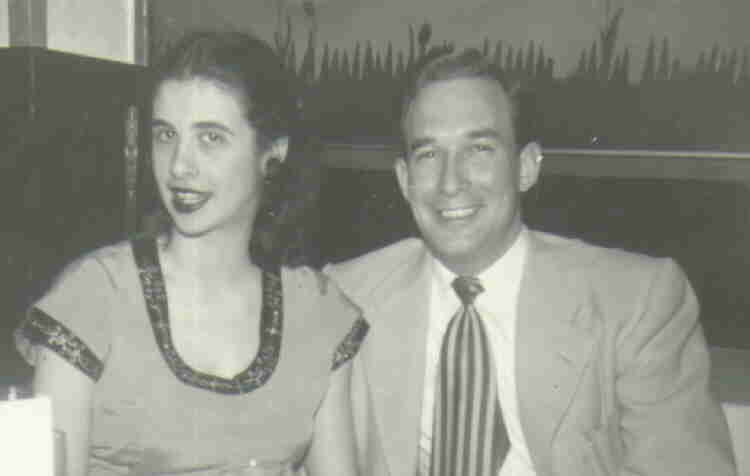 Curt Englebright played third for the Hounds and in Fulton.  He finished one season as co-manager with Jay Stasko. He married this Union City girl, Mary Tabitha Ethridge, but it did not last.  Read more about Curt on the
heard from
page.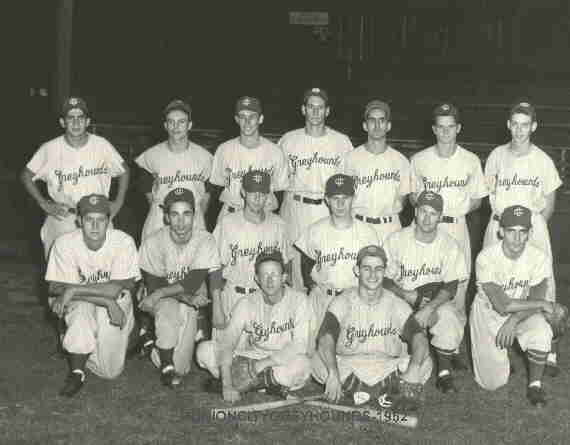 1952-the last Greyhounds front Dewey Martling, Walt Dziedzic. 2nd mgr Frank Radler, Lloyd Woodling Ed Knapp, Dick Coffman, Art Cook, Lefty Lessig; back Chico Cortez, John Bohna,Bob Carlson, J. T. Jaynes, Jay Stasko, Jack Rothenhausler, Bob Oefinger.  picture provided by Jack Rothenhausler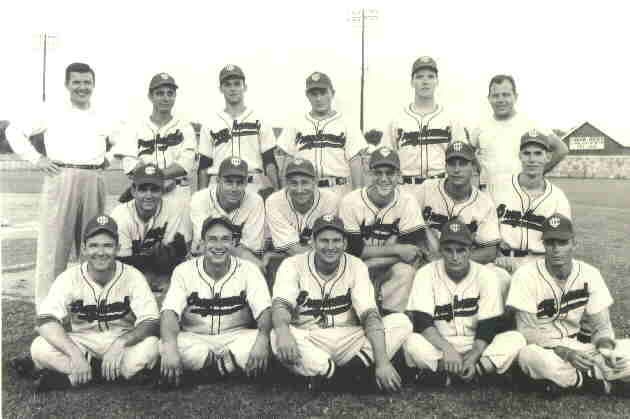 1950 Greyhounds:  First row Hutch Lewis P, Curt Englebright 3B, Junior Cunningham P, Dick Loomis C, Carl Roe P; 2nd row Artie Chivers P, George Reding OF, John Mueller, Mgr/OF, Harley Tillis P, Dom Serifini OF, Corky McMullen 1B; Top row, Lou Wrather WENK, Joe Urso 2B, George Choma SS, Emil Kirk OF, Arnett P, Dick Unger WENK Play- by-Play Man.  Thanks to Curt for the photo.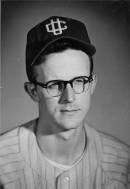 Dewey Martling, catcher on the 1952 team.  Provided by his son Mike.  More info on the
whateverhappento
page.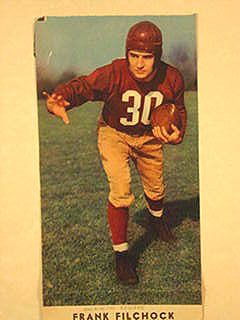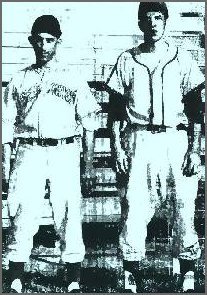 Paul Strickland on the right.  Paul played for the Dodgers in 1955 right out of Union City High School.  He played several more years in the minors under the name Jim Strickland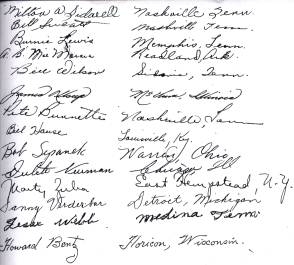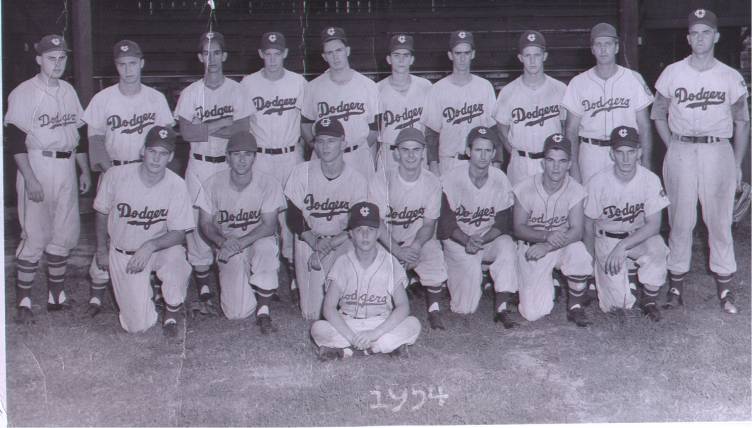 1954 Union City Dodgers:  Back Bill Saar, Al  Shinn, Rene Masip, Ed Allen, Bob Vertich, Joe Fernadez, Tom Sheridan, Lowell Mendenhall, Mgr Earl Naylor, Chuck Templeton.  Front row Bill Liberto, Sal DeMatteis, Bob Kozcawra, Buckie Russell, Al Costa, Gene "Shorty" Dearman, Jim  Majors.  front front-Buster Thomas

1948 League Champions and some say the best Greyhound team ever. Front row l to r: Mgr Tony Rensa, Bud Hudson, Jack Reidel, Bob Samaras, Bud Pfieffer.

2nd row: Ken Paulus, Joe Linn, Corky Bellers, Gil Wick, Don Petchow, Les Filkins.

3rd row: Clarence "Dutch" Neuman, Charlie Simpson, Herm Wollitz, Leroy "Bobo" Fisher, Bernie Olinger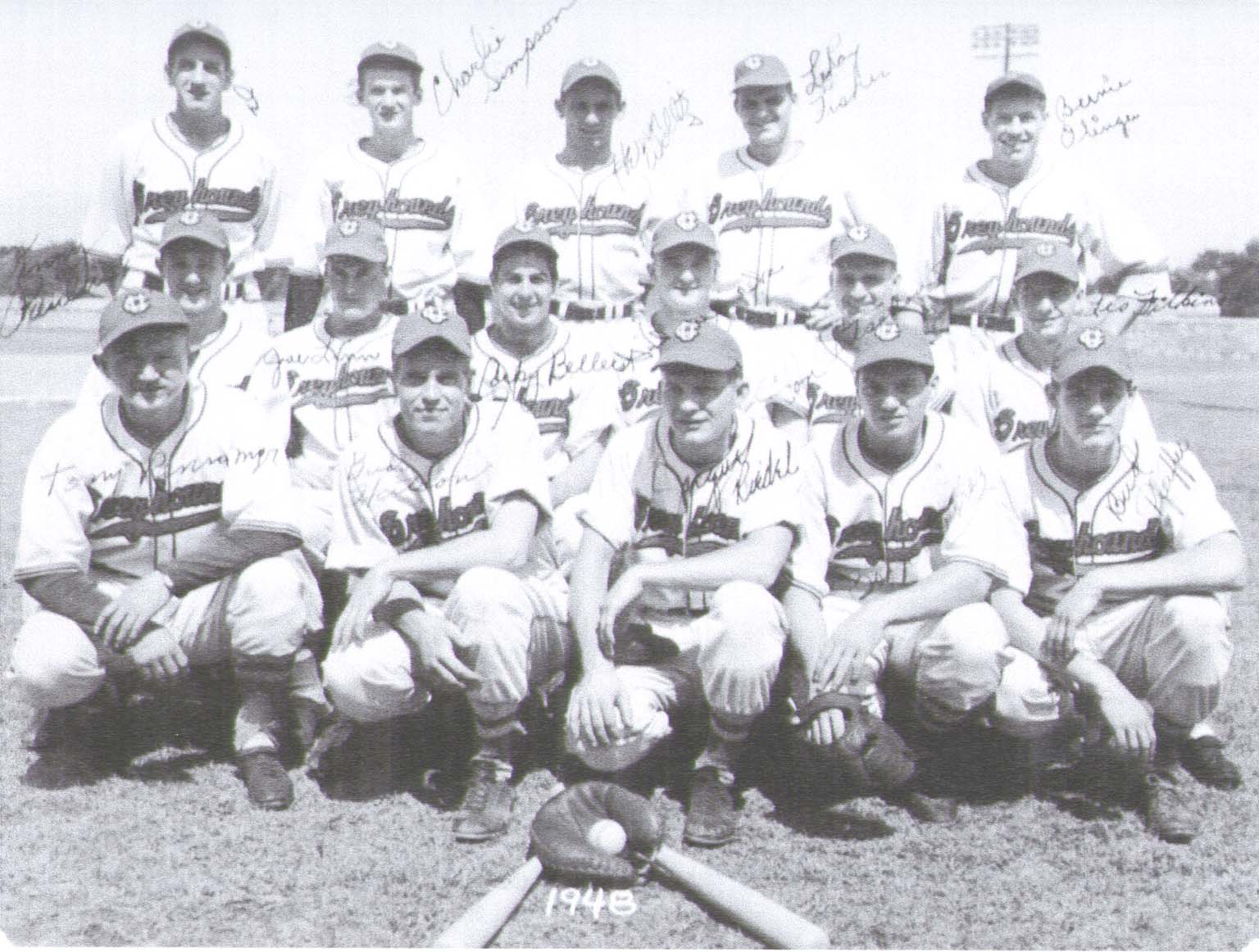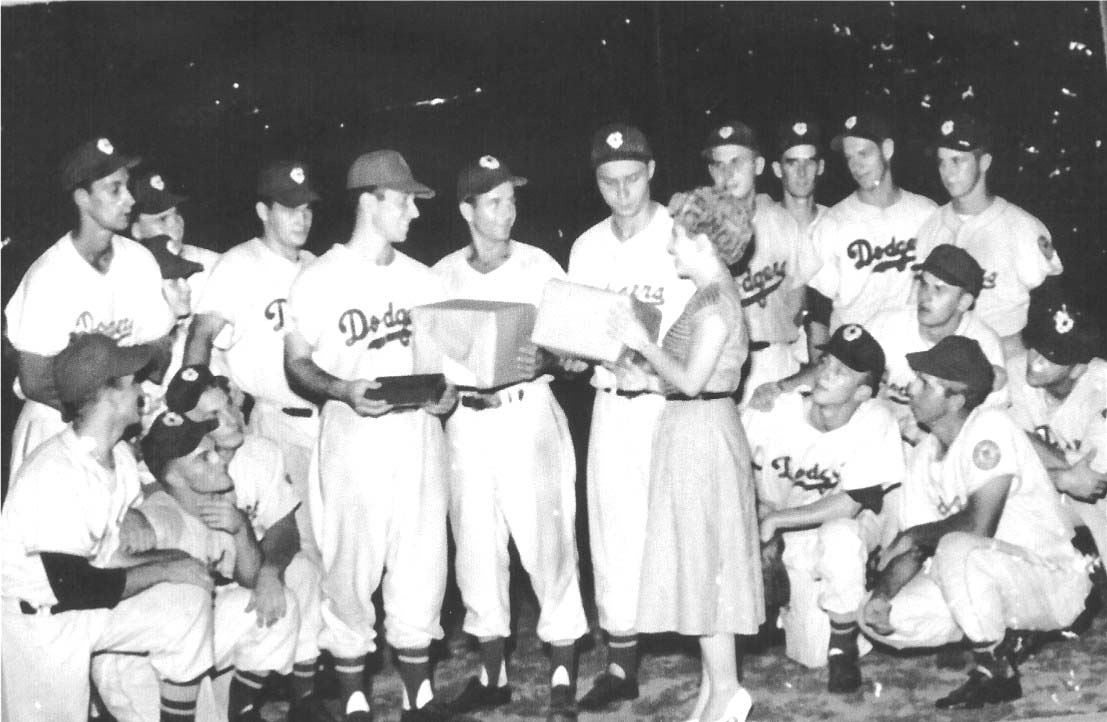 Al Shinn is presented with prizes for being named winner of the "most popular" Dodger in 1954.  Presentation is by Mitzi Brummel Moran, then an employee of the Union City Messenger.  The contest was sponsored by the paper and supported by UC merchants, thanks to the efforts of Mitzi and Sportswriter Andy Andrews.  Picture provided by Mitzi.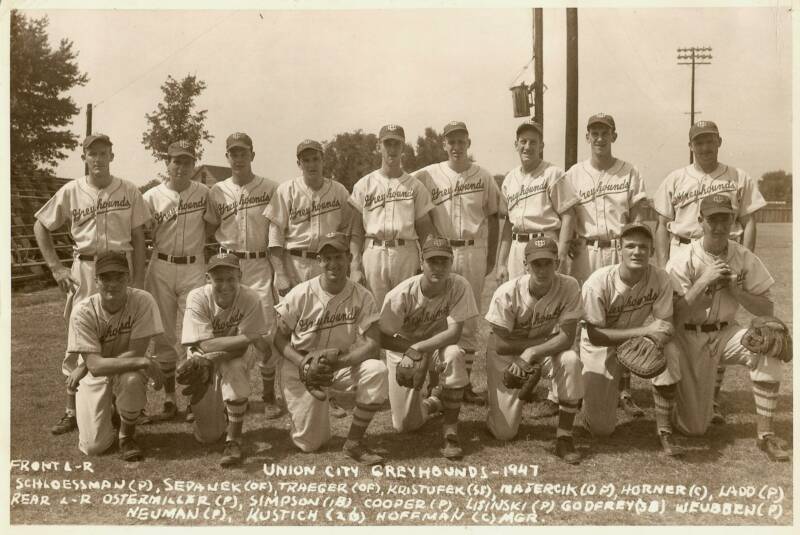 1947 Greyhounds-  Front l to r.  Ray Schloessman, Joe Sepanek, Chuck Traegar, Chuck Kristufek, Jerry Majercik, Bob Horner, Jimmy Ladd.  Back-Don Ostermiller, Jack Simpson, Bill Cooper, Don Lisinski, Phil Godfrey, Bob Weubben, Dutch Neuman, John Kustick, Hal Hoffman, mgr.  Photo courtsey of Ashley Alghata, grand daughter of Jack Simpson.